Feb
7
Fri
Joseph Moreno Presents "Acting Your Inner Music: Music Therapy and Psychodrama and Related Group Therapy Processes"

@ TBA - Phoenix Metro
Feb 7 @ 9:00 am – Feb 9 @ 5:00 pm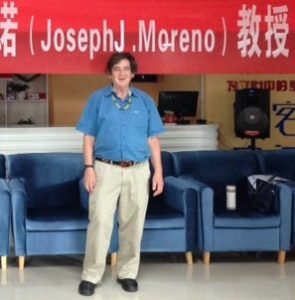 Will need 15 registrations by Dec. 7 to hold this workshop.
"The Sources of the Creative Arts Therapies in Traditional Healing Practices and Applications to Modern Psychotherapy"
Three-day workshop on
"Acting Your Inner Music: Music Therapy and Psychodrama and Related Group Therapy Processes"
Program Outline:
Day One
Introduction to music therapy
Sources of the creative arts therapies, music, art, dance and drama in the traditional healing practices of indigenous cultures around the world
Music and imagery: part one
Music and imagery: part two
Day Two
Music and psychodrama
Music improvisation as a projective technique in individual and group psychotherapy
Music therapy with developmentally disabled and autistic children
Clinically adapted musical instruments
Music and art therapy: part one
Day Three
Music and art therapy: part two
Music therapy at end of life
Multicultural music therapy: music therapy and the blues
Music and dance therapy: parts one, two and three
Biography:
Professor Moreno has had a broad education in music, music therapy and Psychodrama. He has carried out extensive clinical practice in all of these areas, served as a music therapy professor for more than thirty years, and is author of the books" Acting Your Inner Music: Music Therapy and Psychodrama" and "The Lives of Music Therapists: Profiles in Creativity" as well as numerous articles. He has presented his three-day workshops internationally, to date in fifty-seven countries, and has been the recipient of national awards from the American Association for Music Therapy and from the American Society for Group Therapy and Psychodrama. It should be noted that participation in this workshop does not require any special music background, and would be of value to all interested health professionals who would like to learn how to apply music therapy techniques to enrich the therapeutic possibilities in their clinical practices.
Jun
4
Thu
Annual Psychodrama Intensive

@ Deb Gion's Office in Dobson Professional Plaza
Thursday, June 4, from 5:30-8:30pm (3 hours)
Friday, June 5, from 9a-5p (8 hours)
Saturday, June 6, from 10a-6p (8 hours)
Sunday, June 7, from 8-9:30a & 10:30-3p (6 hours)
We will eat lunch together, paying separately, on Friday and Saturday at nearby restaurants. Check menus in advance to be sure your nutritional needs will be met and bring anything extra along you might need. (Note: Each participant will pay for his or her own lunches.)
Snacks will be provided on Thursday & Sunday, including mixed nuts, dried and fresh fruit, veggies & dip, and cheese & crackers (regular and gluten-free). Bring anything else you need.
Learning Objectives – Participants will:
1. Experience seasoned psychodrama directors.
2. Observe & Discuss live psychodrama key director choice points.
3. Recognize and Report elements of the psychodramatic spiral for finished psychodramas.
4. Describe a finished psychodrama, as a conserve, using the Canon of Creativity model.
5. Practice demonstrated elements with assistance and supervision.
Instructors will direct a number of short and complete psychodramas, offering the opportunity to do personal work to a number of the participants. The opportunity exists for a number of other participants to do longer, complete psychodramas, potentially directed by advanced students with assistance from instructors.
Every effort will be made to allow those who want to do personal work to have an opportunity to be a protagonist in at least some short experiences. We are not able to guarantee that each participant will get to be a protagonist in a full psychodrama nor that each interested director will get to direct a full psychodrama, although every effort will be made to best meet the needs of the participants.
Twenty Five hours of psychodrama training will be provided. Continuing Ed approval requested, not yet approved.
PREREQUISITE (Must have ONE)
1. A Completed Master's in any field
2. 16 Hours of Psychodrama Training
3. Actively Enrolled in a Master's Program in a Behavioral Health field
Faculty:
Dr. Marlo Archer, CP, TEP, is a co-founder of the Arizona Psychodrama Institute, a licensed psychologist, a Trainer, Educator, Practitioner (TEP) in psychodrama, a Fellow of the ASGPP, and the 2013 recipient of the ASGPP's Zerka T. Moreno Award.
Debra Wingo Gion, LPC, CP, CGP is a co-founder of the Arizona Psychodrama Institute. She is a Licensed Professional Counselor, has been a Certified Practitioner of Psychodrama for over 25 years and is a Practitioner Applicant for Trainer in psychodrama. She is also a nationally Certified Group Practitioner through the American Group Psychotherapy Association. She has worked in private practice settings, residential treatment centers and has worked in Canada with First Nations people as well as with the Gila River RBHA clients. She has been doing Trauma Recovery Work for 25 years, both individually and in groups. Debra incorporates her creativity, humor and calm, grounded manner in her work with clients and colleagues.
Suggested Reading: Acting-In by Adam Blatner, pages 1-95
INFORMED CONSENT
I understand that this workshop is intended only as training, not as therapy. I am aware that psychodrama, sociometry, and group psychotherapy are powerful methods that must be used carefully. I understand that this is an experiential workshop, that is, I will be allowed and encouraged to participate actively. I understand that as a result of my participation, therapeutic issues for further exploration may be revealed and that it is my responsibility to seek professional services for therapy, if such a need should arise. Workshop leaders are available to make referrals to professionals in my area. API adheres to multiple codes of ethics and seeks to reduce your risks.
I understand that it is API's intent to provide high-quality, interactive training based on the most current information available, revising workshop content at least yearly. It is, however, up to each attendee to independently evaluate the accuracy and utility of the presented materials. The proposed content of each API course is limited to the stated Learning Objectives.
I have also been informed that the workshop will be videotaped for training purposes. My identity will be held confidential and the video will only be viewed by trainers of facilitators or by fellow workshop attendees, with an API trainer. My registration for this workshop constitutes consent to be videotaped. My participation in this workshop additionally constitutes permission to participate in research that may eventually be reported in a professional journal, without my personally identifying information.
Minimum of 5 registrants by 5/19/20 needed to hold the workshop. Prompt and generous refunds given to any who register for a workshop that fails to meet minimum registration.
Here's what people said about Beginning Director's Psychodrama Intensive (June, 2013)
"The workshops are well thought out and the modeling by the instructors is terrific. The instructors were honest, open and wonderfully real. Training is hands on and help is always nearby when needed. Mistakes are considered and treated as learning opportunities. Marlo and Debbie were 'in the moment' and highly respectful of the trainees while they directed and did their own work. I loved it and give it my highest recommendation!" – Alan A., Phoenix.
"When working with AZ Psychodrama Institute, I leave with a sense that I experienced everything i could hope for. I have to believe that the method originator (Moreno) is very well represented by the heroic psychodramatists at API. There is a very strong heart & depth of knowledge within their trainers and training systems." – Nick, MA Professional / Addiction Counseling